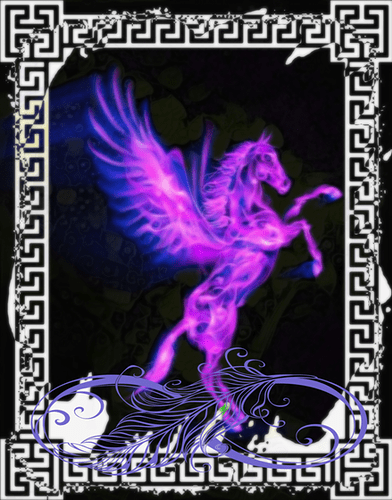 Our Pegasus
guides us, assists us and empowers us in our daily, spiritual and magical life, and in the pursuit of our goals

transforms us, helps us achieve higher consciousness and raises our vibrations

protects us physically, energetically and in all aspects of ourselves and our journey

inspires and imbues us with his Love and Light, with the righteousness, justice and honor that fill his heart, with the courage to always do the right thing

dissolves our fears, instills courage in us, let us see things from a perspective of Love

helps us care for and be of service to loved ones and others, so that we might all achieve the best in this life and beyond

balances, fills, optimizes all our energetic reserves, our energetic flows and our energetic alchemies

attunes us to the astral and celestial worlds, teaches us what we ought to know and to do it, helps us navigate through them

helps us care for the Earth, gives us the tools, knowledge and assistance to do so and make a difference *

can create Fountains of Life with a struck of his hoof (drinking from it is as if Life itself was pouring inside us, rejuvenating, healing, making right everything that was not) (that water of Life could also nourish the environment and Earth as it flows around the Fountains) (the Fountains could even be noded to create Rivers of Life) *

can channel the stars from the Pegasus constellation as healing tools

The programming of a vast, immense and limitless intelligent and teachable energetic program. (meaning unrestricted potential to learn more and become even more).

Noded servitors that grow together.

Cues based on all of our senses (sight, hearing, smell, taste, touch) that we would be able to pick up depending on our subtle abilities if we have any, to facilitate communication and understanding of our servitor.

Being able to work on all parts, all aspects of one's being, from the tiniest to the most immense level, from the densest to the subtlest level, from the lowest to the highest vibratory level, in this life and all others, everywhere and everywhen.

Custom synergy with other servitors : being able to work with other servitors by Dream in a synergistic way tailored for the person being taken care of. Though it might already be the case, or a natural talent of them as they learn about the person and the other servitors.