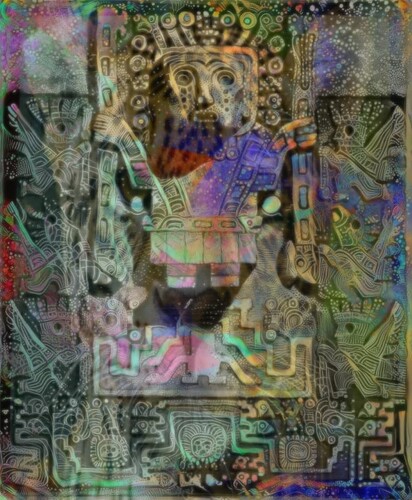 Viracocha: The Return
From deep in the pacific ocean, something began to change. The marine life began to form communities peacefully as if they were waiting for something.
Suddenly, a pure energy form of light emerged and a voice came from it. It said, "my people…they need me again." It was Wirakocha, the Creator of this world that emerged. Being omnipresent and omniscient it only took a second for him to understand the current status of the world. In the past, he promised that if he was ever needed he would emerge again, the time was proper.
He felt the pain of the forests being destroyed, the oceans being polluted, the air infested, and most importantly the hearts of his people being dimmed. He knew that he came right at the brink of time before something without any form of return happened. Wirakocha decided that he needed to take a form that would be symbolic and relatable. He discovered that there were new animals and vegetation from what he originally created. This made him happy, to see the expansion in life and to witness it in a single moment how everything developed.
He remembered his friend the Jaguar whom he gave the responsibility of the forest, unfortunately, his presence was faint. Wirakocha decided to take the form of his old friend but needed another essence to balance the fierceness, something with wisdom and maturity. He searched all the world in an instant and nothing stood out more than the gentle, wise, and loving Capybara. In his infinite wisdom, he combined what seemed to be opposites in one beautiful form that portrayed both the the warrior, wise, and loving qualities of the beings.
Wirakocha now had a new body that fit his purpose in symbol and function. He now needed his armor back which represented his power and abundance. Almost as if a growth coming from inside his body emerged, a beautiful shining yellow gold armor that when witnessed gave nothing but joy and a sense of limitlessness.
He was now ready to create his plan. The first thing he knew he must do is to begin the unification of his people and awaken their hearts so that the light emerges in them as well. He decided to use the physical means of the crystals of all the countries of his people, some were unique and some were shared among multiple countries, he gathered a piece of each and observed them. "They are in lack of light", he said before charging them with the light source of all. He decided that he wanted to carry each crystal as a symbol that he has each country close to him. The idea came to him, "Time to add beauty to my armor" and suddenly all crystals glowed of light embedding themselves into his armor in a beautiful symmetrical pattern.
Now being part of his armor and a representation of his power, each crystal carries his essence once again and is able to transmit his light, love, and abundance to all countries. Anyone near will feel pulses of his light and love in their heart and connect them into a node network to awaken the potential that he sees in their hearts. That intense and warm love they have in each festivity and when gathered with their loved ones. Wirikocha saw that until the main plans were set, this was enough to sustain the balance for now. Any calling for love will now be supplied.
This time the situation was dire and knew he needed help so he made sure to allow some of his infinite essence to roam the forests that needed the most healing. Affecting all vegetation and restoring them to their highest form. Now that he had enough in play to allow him to work his highest plan, he decided that the world has taught his people about illusions such as scarcity and that the lessons on their creative abundant nature have been dampened or lost in some.
In a thunderous voice that combined the jaguar and capybara tonality, he said, "Let my armor and the crystals that connect us all remind us that you have nothing but abundance within you, know that you have all the tools to flourish, all love, and beauty in this world. It is so." He didn't mind if the people didn't act upon it but the current lack of light allowed them not only to forget but to even believe the opposite.
"My people, you are destined for anything you choose and for those of you that choose to do so, you can now go into the land where the essence of my armor emerges. El Dorado, the promised land of abundance, love, and light". That message was transferred deep in the hearts of all those connected almost like a vibrating voice that came from within.
Wirakocha is a fair being and knows that he must allow for everyone to express their uniqueness but he also knows that the darkness of the world has made them forget that there's a unique essence to each and every person. He decided to allow people to come aware of their Kin Seal and the potential that awaits them, if they so decided, it could unlock the ultimate expression of who they can be. "Each and everyone of you are unique and special towards each other, here you have the option to allow yourself to be". Another pulse of light began to emerge in people's hearts.
With a determined look, Warikocha only had one more thing to say
"My people I am here and we will love in abundance once again"