As there is a huge demand for an all exclusive hair NFT and Tiger Mane fizzled out, a public project with enough number of copies for all members and future members, to be released on sapienshop or gumroad (like Vision of Clarity) with both mandala and audio, if Captain decides to do.
Inputs will be taken from Another Hair Project, requests thread and also add anything here that would help the project.
Interested people, please vote again to get some idea on the count.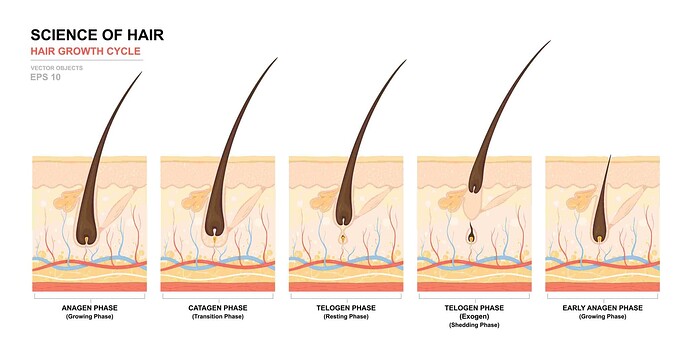 Draft script
Objectives of Blueprint of Hair

To provide the user with a perfect blueprint of hair with renewing and regenarating scalp in order to fix all the hair problems:

Alopecia Areata (autoimmune disease that impacts hair follicles)
Androgenic alopecia (male-pattern baldness and female-pattern baldness)
Telogen effluvium (temporary hair loss due to a stressor)
Receding hairline
Gradual thinning of hair on the top of head (crown)
Patchy bald spots
Physical - Damage Control

Damage control

Endocrine flush - removing excess estrogen from body which causes thyroid and endocrine system problems and maintain healthy levels of hormones
Remove excess DHT from scalp or the negative effect of DHT on the hair follicles without causing imbalance in the body (Dutasteride Scalp field) (Source - 1)
Ketoconazole is a topical antifungal that can disrupt DHT pathways in the scalp. (Source - 1)
Saw palmetto: An herbal mix with saw palmetto berries can reduce levels of DHT by 32%. (Source - 1)
Detoxify kidney & adrenal glands
Automated blood purifier - Detoxify the body from acidosis (lower pH level of blood) and make into alkaline especially the scalp
Automated lymphatic effusion - Drain the excess fluids and toxins from the hair follicale stem cells on the scalp

Stress

Any medical condition that puts a stress on the body and the hair cycle
Removing excess cortisol and corticosterone from the body
Remove the autoimmune disease markers from the body - class of Janus kinase (JAK) inhibitors

Protection from Radiation

Protection from all forms of radiation and EMF frequencies (Source - 1)
Hair Rejuvenation & Growth - Research

Research

Epigenetics

Adipose Tissue & Stem Cells

Pathways

CRISPR Gene Editing

Miscellaneous

Alternate treatments

Inaudible sound at 30 kHz promoted the proliferation of hair follicle cells and that this effect inhibited hair loss signals induced by DHT (Source - 1)

Low Level Laser Therapy

Photobiomodulation (PBM), also called low level laser therapy (LLLT), is a treatment used to stimulate hair follicles to grow. Results indicated that low-level laser therapy (LLLT) with a 830-nm wavelength resulted in greater stimulation of hair growth than the other wavelengths examined and 785 nm also showed a significant effect on hair growth. (Source - 1 2)

Low-level laser therapy (LLLT) is occasionally synonymous with red light therapy, cold laser and soft laser. It is thought to exert a biomodulation/biostimulation effect on tissue, promoting anti-inflammatory effects. The exact mechanism of action in stimulating hair regrowth is not known. Improved cellular activity, reduced inflammation and improved microcirculation may be involved. The therapeutic effects are delivered in wavelengths ranging from 500 to 1100 nm (red to near infrared) at low energy density (3 to 90 mW/cm2) (Source - 1)

Electric Simulation

Electric stimulation can induce hair growth by stimulating follicles that are phasing out to become reinvigorated, possibly through regulation of multiple hair growth factors in the scalp. (Source - 1)

Electrotherapy, also known as Electro Tricho Genesis, has proven to be an attractive non- surgical and non-invasive treatment in reversing male-patterned baldness and other hair loss problems in both men and women. (Source - 1)

PEF (pulsed electric fields) shifted hair follicles from resting telogen to active anagen, and voltage was the most influential parameter. A single treatment at 270V, 300pulses, and 270us pulse length, lead to a 5.05-fold increase in anagen follicles at treated sites. (Source - 1)

PRP Treatment

Jing and Plasma directly targeted to scalp for PRP treatment
Automated dermaroller + minoxidil + finasteride / dutasteride to the scalp with no side effects like low libido, ED problems, depression, suicidal tendencies etc from anything

Traditional
Intercession

Help from beings and entities - left to Captain
Automated scalp massage, cooling of scalp with the effect of cold feeling of mint (but not the actual application of mint)
Automated blood circulation and stimulation of Scalp exercies by Tom Hagerty
Enveloped in the abundance of thick, voluminous hair with best hair density possible (3000 to 5000 strands per square inch) [Source - 1]
Nutrients & Supplements

Agents improving blood supply to the scalp

Niacin (vitamin B3)

Vitamin B complex

Ascorbic acid (vitamin C)

Tocopherol (vitamin E)

Grape seed

Rosemary oil

Sage

Nettles

Hibiscus rosasinensis
(Source - 1)

Agents improving hair texture and thus preventing loss of dry brittle hairs - Essential fatty acids (primrose and salmon oil)

Amino acids (l-cysteine and l-methionine)(Source - 1)