---
Warning. Do not neglect your usual treatment in favor of using this NFT. If you are suffering from any disorder, the first thing to do is to see a doctor to find out the cause. Depressed moods, panic attacks, etc. may be symptoms of other illnesses. This NFT should only be used as an adjunct to basic treatment.
Mental health is a state of well-being and good spirits, in which a person efficiently copes with life's difficulties, works productively, self-improves, adequately expresses feelings and emotions in various life situations, and realizes himself as a person, who is characterized by self-perception, self-esteem, self-knowledge and self-actualization. In other words, it is a dynamic totality of mental properties that ensure the inner harmony of a person, the harmony of a person and society, the possibility of full functioning in the process of life activity. The level of a person's mental health at every moment of his life is determined by numerous social, psychological and biological factors. Deterioration of mental health is associated with rapid social changes, stressful conditions at work, social alienation. Risk factors can appear at all stages of life, but the strongest negative influence is those that occur during the most important periods for human development, especially in early childhood. For example, it is known that harsh parental education and physical punishment undermine the mental health of children, and bullying at school is one of the main risk factors for depression and nervousness. According to some data, most residents of big cities are in the "average level" zone, which is characterized by people who are generally adapted to society, but have somewhat elevated anxiety and mood problems.
The purpose of the project is focused on optimization and maintenance of the mental health of the person in the conditions of the social and informational environment, restoration of the disturbed balance in the psycho-emotional sphere of the person. Energy support to strengthen mental health and prevention of mental deviations, timely correction in order to reduce the risks of crisis states; increasing mental stability and creating a favorable environment for mental health. Learning to manage one's condition means reducing the pathological state to a normal level and then using this normality as a stimulus to increase awareness, attention and a taste for life.
This project and its whole structure is HUGE. I don't think complete pedantic detailing is necessary; the principles themselves are important.
---
Included in this project are:
Some of the project layers

NEUROPROTECTIVE MIX (NOOTROPIC ADAPTOGENIC COMBINATION)

ENERGETIC MULTI-COMPLEX ANTIDEPRESSANT

TAMING AND REPROGRAMMING OF THE AMYGDALA AND BLOCKADE OF THE STELLATE GANGLION

BALANCING AND NORMALIZING OVERALL BRAIN CHEMISTRY; RESTORING DOPAMINE RECEPTORS, ect

STIMULATION OF NEUROGENESIS IN THE HIPPOCAMPUS

PRINCIPLES OF ELECTROCONVULSIVE THERAPY AND TRANSCERNIAL MAGNETIC STIMULATION

STRESS THERAPY, RELAX ANTESTRESS AND SUNSHOWER SESSIONS

BALANCING AND HEALING: HPA AXIS

[…]
---
The project includes the concept of an ECOLOGY OF CONSCIOUSNESS. Most people are hostage to the information bubbles created around us by our environment: daily platforms and sites, social networks, and the media. Have you ever wondered how much this whole complex affects your personal consciousness? In today's world, information flows into our heads like an endless stream. At the same time our own thoughts are lost and have great difficulty in bringing them to their logical conclusion. All this information junk (spam), which we see and hear every second, and which aggressively imposes a variety of unnecessary information, does not allow us to focus on ourselves, to hear and understand what we want ourselves. This field will help not only to get rid of everything unnecessary in our thinking process, but also to begin to distinguish these unnecessary things in the world around us, so as not to load our mind with a bunch of unnecessary information junk.
PSI-ANTI-TERROR
Today there are extremely dangerous for the human psyche new technologies of mass consciousness management, aimed at suppression of individual thinking. This field allows to build a number of mechanisms of protection against unconscious, negative, destructive impact on the consciousness through the visual channels of information (television, graphics, graphic images, advertising); auditory channels of information (acoustic signal, sound series). Also, the field will create a number of mechanisms of protection against hypnotic and telepathic influence and against the impact on the consciousness by "generators of radiation", affecting the human psyche. Of course, the field will rid you of the already acquired negative, destructive, damaging energy-information programs. The owner will also learn at the level of intuition to sense negative, destructive, hidden information in the form of natural dislike, which allows you to consciously stop receiving this or that negative information. No one has the right to influence your will and consciousness! No one has the right to interfere with your life experience and spiritual growth.
MIND DETOX + CRUCIBLE OF MENTAL SPACE
Depressing thoughts, beliefs and behaviors poison your mental health, creating unhappiness and stress. Mental and emotional toxicity accumulates as we react and make choices that pull us into a cycle of stress over and over again. These triggers are often related to relationship problems, work, finances, busyness, illness, negative attitudes, and other issues. Various beliefs and expectations that we try to live by that don't align with your true beliefs can also support chronic stress and bad moods.
For optimal mental health, regular mind detoxification and clearing mental garbage should be an integral part of a healthy lifestyle. It can allow us to gain new and useful insights into any problems we face. Clearing mental chaos and clutter also helps to gain creative insight. Complementary brainwave influences (alpha, theta) are great for emotional balance, enhancing inner peace, addressing major issues in your life, etc. In addition the field is designed to develop optimism and create a powerful positive mood at the conscious as well as subconscious level. It also fills the owner's energy field with positive vibrations. It is a tool for maintaining a cheerful spirit, and positive thinking. This section also includes an AUTOMATIC CLEANING OF ENERGY SHELL.
---
Further, the project features the NEUTRALIZER OF NEGATIVE EXPERIENCE WITH THE CRUCIBLE OF THE PAST, a multi-layered field that works with the negative aspects of the past. This field is also designed for deep (subconscious level) processing of the past and negative experiences in order to neutralize their negative influence on our current thoughts and actions. Negative experiences are extremely important because their purpose is to protect us from past mistakes. But sometimes we attach too much importance to negative experiences, and they turn from protectors into barriers that prevent us from doing what we want to do. Some people just need to accept and let go, but some people can't afford it and the negativity of the past pulls at the vitality of today. For example, a person opened a firm, but the business didn't go. Bankruptcy, debts and so on. As a result, this negative experience will not allow the person to try business again in the future.
This field will help to neutralize the negative influence of negative past experiences on the present; transform the attitude towards negative experiences from negative to positive; form the subconscious attitude "any experience is useful"; promote the development of a positive attitude towards life, etc. The ultimate goals of the process are elimination of programs of victimhood, resentment, guilt; self-esteem, love and self-confidence; freedom from fears and depressions, elimination of emotional drabness and stiffness. There is also a correction of depressed states caused by severe, recurring problems and stressful life circumstances subjectively perceived as insurmountable or hopeless. Subconsciousness deprogramming and elimination of the emotional roots of problems and, as a consequence, elimination of automatic reactions that lead to problems.
Other Project Layers

NEUTRALIZING NEGATIVE PARENTAL PROGRAMMING

HEALING OF THE INNER CHILD

CUTTING OFF ETHERIC CONNECTIONS AND CLOSING THE GESTALT

AUTOMATIC NATURAL FORGIVENESS

[…]
---
In the "SOCIAL" section, principles of social adaptation to a changed social environment are presented. This set of fields weakens the traumatic impact on the psyche of situations involving changes in the social environment, neutralizes the negative effects of heavy social adaptation (stress, nervousness, apathy) and promotes the ability to easily change the current social role, depending on the situation. The field will help to form a subconscious model of psychological stability, emotional balance, and the manifestation of firmness and equanimity in stressful situations.
Other Project Layers

PERSONALITY CORRECTOR, NEUTRALIZATION OF COMPLEXES

CORRECTOR OF NEGATIVE STATES, FEARS, PHOBIAS, ETC.

[…]
---
INNER KEEPER & "PSYCHOSOMATIC PROTECTION":
Psychosomatic diseases (malfunctions of the body) arise from constant experience of negative emotions (eg, guilt, sadness, depression, anger, fear, resentment, despair). This field is aimed at the formation of a firm belief that the body can cope with any disease; there is a neutralization of internal conflicts and emotional tension, the negative impact of often used destructive phrases and thoughts is reduced, subconscious copying diseases of other people is blocked, also activated subconscious resistance to self-inflicted illnesses.
Most people are not prepared to repel psychological attacks. They simply have not been taught to do so. Worst of all, many are not even aware that some of their problems arise solely because of negative programs and manipulation by others. The field forms in the subconsciousness a powerful complex of positive attitudes for: reflection of psychological attacks of any force; protection of health and well-being from destructive actions of aggressors; destruction of negative programs already existing in the subconsciousness; formation of a stable block against formation of new harmful attitudes; protection from manipulative behavior of surrounding people.
---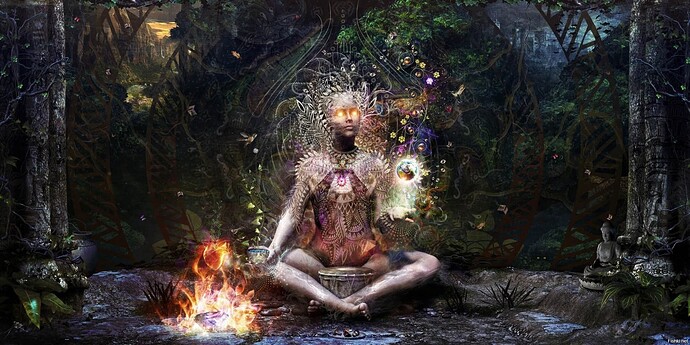 The final part of the project consisted of a PURELY SHAMANISTIC APPROACH. The "beginning" of this idea was here.

TREATMENT

… is most effective as a primary treatment in the following situations: Mental or emotional trauma.

The shamanic method of soul retrieval is highly effective in dealing with the effects of trauma, including incest or other forms of childhood abuse. Soul Retrieval restores the part or parts of the patient's soul that left him or her at the time of the trauma in order to avoid it. Healing brings back parts of a person's personality, but not the memories of the trauma itself.

Mental and emotional illnesses, from neurosis to psychosis, usually have a significant spiritual component. These illnesses are usually influenced by local infiltrations or possession by spirits of the dead, whose consciousness embeds itself in the patient's mind and influences their behavior. Often these spirits are under the illusion that they are still alive and confuse their identity with that of the patient. In other cases, the spirits of the dead are aware that they are dead and consciously choose to continue their habitual pre-death activities while in the body and mind of another person. Extraction of a locally embedded spirit is most useful in situations of chronic localized pain or illness that does not respond in the desired manner to the healing methods of everyday reality.

Return of the guardian spirit

… as a primary method is most useful in situations of chronic depression and depression and in the case of chronic illnesses that do not respond to physical treatments. Likewise, this method is good for helping patients cope with chronic troubles in life. Maximum effectiveness of the return of the guardian spirit is usually achieved when used in conjunction with the return of the soul. The goal of returning the guardian spirit is to restore patients' spiritual strength and help them cope with existing mental or emotional illnesses, to help them heal their wounds and reduce the risk of future injury or illness.

Stabilization of the state and restoration of harmony and shamanic protection