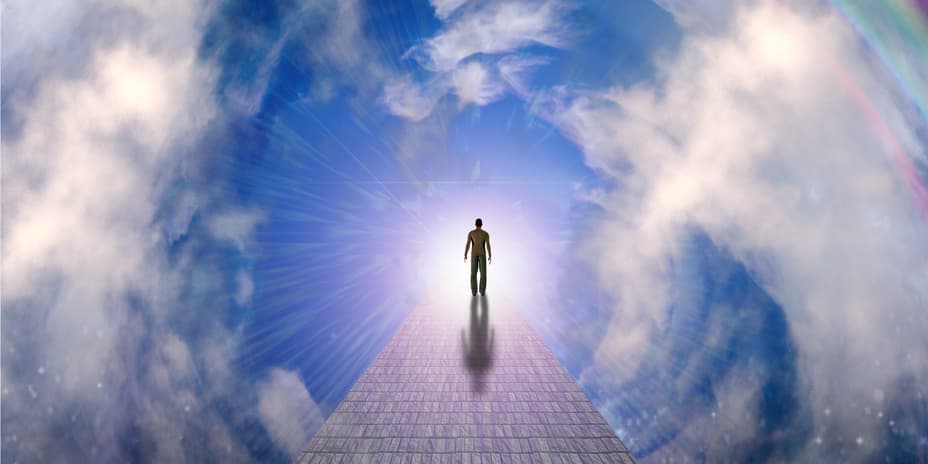 #StopTheMortalistPropaganda
Before I start, I want to mention that none of this has anything to do with religion (these are just human made belief systems). This will be only about science and (your) personal experience.
I am making this post to counter the "propaganda of death" and "mortality" that is still prevalent in our society and with which 99.9% of the people are still brainwashed with.
All of this despite for medical science have studied the afterlife now for almost 50 years, most people still seem to believe in the mainstream narrative of "death" (unfortunately, even here on a spiritual forum…).
But let me tell you that all the proof and information has been publically available in most countries on the internet and on the bookshelfs now for decades! You have been lied to by most of society about "death", because the belief in death keeps people in fear and under control.
The belief in "an end of existence" keeps most people in such a strong subconscious traumatic level of fear, that even thinking about death or the afterlife, creates a strong blind spot in people's minds.
This blind spot is so strong, that most people will ignore any information about the afterlife or about death not being real, that they will fight tooth and nail to remain in their current state and ignore the available information.
Usually, most people only open themselves up to exploring the question of the afterlife when going through extreme pain, or only after they already have had a near death experience.
So YES, there is an Afterlife and there is Life after "death".
This is why I am making this post.
To show the many of you this particular blind spot that you are still walking around with.
To open you up to the bigger truth you didn't want to see because you were comfortable in believing what society has told you about "the finiteness of life".
It is the belief in death is what gives the matrix system its power.
People believe their lives are meaningless and that they are just cogs in the machine with their only purpose being procreation.
Which is a complete and utter lie!
Everyone's life and incarnation is important for the bigger whole.
No one is here randomly by accident.
You are important and you play an important part in the whole and the much larger plan.
Eternal Life gives Life it's Purpose
And it is actually the fact there is "an afterwards", which actually gives life meaning and purpose.
Life is not just there for nothing and procreation for the sake of procreation.
There is a higher meaning and purpose for everything.
And everything will be revealed to you in time.
It will all make sense to you one day.
Real Empowernment!
If more people would be aware about the afterlife and the bigger picture, then they would gain an immense amount of INNER STRENGTH to live their incarnation to the fullest.
Instead of walking around in a waking trance and constant fear.
People would see the meaning and purpose in their incarnation.
Barely anyone would ever consider fleeing into the afterlife through suicide (which is the worst thing one can ever do, because nothing, absolutely nothing is more painful than the REGRET of ending one's incarnation preliminary. I am speaking of the REGRET that you came here because of a specific life plan and that you have now messed it up big time and have to start from the beginning. There is nothing more painful than messing up your own incarnational plan by leaving an incarnation preliminary. Everyone who has ever left preliminary rather sooner than later understands what huge mistake they've made and begins to beg their Higher Self and Spirit Guides to reincarnate again.).
How I came to this:
My personal journey with these topics started when I was 16.
I was an atheist and materialist who wanted to kill myself for various personal reasons.
But my Spirit Guides guided me to the public library and the shelf with those books where scientists were studying Near Death Experiences (NDEs).
Coming from a family of scientists, that intrigued me a lot, especially because science was the only source of trustworthy information for me back then.
My first book has been "Life After Life" by Dr. Raymond A. Moody, which was published in 1975 (that is 47 years ago!) and which was also one of the first medical research documents into the topic of the afterlife and the medical study of Near Death Experiences. But there is even older research available.
In the next 3 years I've read around 20 scientific books on life after death.
Reading these books also opened me up to spirituality, esoterics, occult stuff and astral travel.
At 19 I achieved my first astral projection with the help of the "Out of Body" book by William Buhlman.
After several of such Out of Body experiences nothing was the same as before.
A belief in the afterlife that was just based on reading scientific facts became an absolute inner conviction and knowing.
More and more I began feeling like I am living in some crazy land where everyone around me was still believing in death and also acting like it.
A whole society build on death and decay


A lot of people made fun of me believing in the afterlife, but when I offered them to read certain books, almost no one was open to it or even open to even consider it.
That was my first lesson in that most people on the planet are not only blind and scared all the time, but also that they love to be blind and scared all the time and exist in their own little bubble of beliefs.
All the information was out there, even in public libraries.
If a 16-year old can read it, then why can't everyone do it?
Why aren't many more people interested in the topic of the afterlife?
Isn't it the most positive message that someone can receive when someone tells them that they are going to live forever?

---
Now about YOU:
According to my experience, there are two main ways of how YOU personally can convince yourself about the reality of eternal life:
1. The Logical Learning Approach – i.e. by learning about facts and proofs.


Reading books, watching videos, speaking with people who had NDEs etc.
This approach will give you FAITH and rationality based BELIEF in the afterlife.
The more you will learn about these topics, the more you will see the VALUE in life, your life's purpose and the bigger plan of it all. And with that information you will gain a new perspective which will give you real spiritual strength.
Additionally, because you will see a new WHY and a new PURPOSE there will be a vibrational shift that will open you up to receive more help from your Spirit Guides, Guardian Angels and many others.
2. The Practical Personal Experience Approach – by doing actual astral projection and consciously leaving your body.

This will give you absolute KNOWING that the afterlife is an unquestionable truth.
After this point, nothing will ever be ably to convince you otherwise.
You will know with absolute certainty that you are an eternal consciousness and not your physical body.
---
For the Logical Learning Approach:
Some helpful YouTube channels and books to start with.
These are just a few resources and there is much much more out there - you just need to face your blind spot and be willing to explore the life after death topic:
---
For the Practical Personal Experience Astral Travel Approach:
All books from these authors:
Robert A. Monroe
Jurgen Ziewe (+ videos)
Robert Bruce
Rosalind McKnight
Cyrus Kirkpatrick (Afterlife Topics) (+ videos)
Bruce Moen
William Buhlmann (+ videos)
And then of course, simply going on YouTube and watching the thousands of videos on astral travel that are on there.
There is also the Astral Travel thread here on this forum:
Question:
How to know whether you've had a real astral projection?
Answer:
You will know it with absolute certainty because everything will appear to you 10-100x more realistic and more colorful than anything that you have ever experienced in your body on earth. This includes any drug from your local corner dealer. None of these chemical shit can compete with how real the astral planes are. Also, if you have to ask yourself whether an experience was a real astral projection, then the answer is no and it was most likely just a lucid dream.
---
---
Now to you Dear Reader, who has read this:
You now have absolutely NO excuses to not educate yourself on the afterlife.
You now have no excuses to continue to belief the bullshit mortalist propaganda that the system is throwing at you on a daily basis, taking your power away and controlling you through a deep existantial subconscious fear.
It is of utmost importance that everyone learns about the afterlife, because this is how humanity can overcome their collective fear and how people will find real purpose in their lives.
Remember, it is the fact there is an afterlife that actually gives life its meaning.
That actually gives spiritual development a meaning.
That there is a higher meaning and purpose for everything!
Nothing is futile.
That's it.
All the info is out there.
It is all public.
And it has been public for 50 years.
Now it is up to you to bring yourself the incredibly positive message that you are going to fuckin' live forever!


PS:
There are many of so-called self-proclaimed "spiritual" people walking around the planet.
The very same people on the other hand still 100% believe in death and act like this.
So, in case you meet a so called "spiritual person" that is not deeply convinced about the afterlife, then this will tell you a lot about this person's level of faith and actual spiritual strength!
A self-proclaimed spiritual person who will still do all the activities that the mortalist-propaganda brainwashees are doing, has actually barely any faith at all and is at the very beginning of their spiritual journey. Therefore, do not take spiritual advice from people who are not actually "spiritual" in the sense that they still identify with their mortal flesh. Because "spiritual" is about the spirit – kind of obvious, huh?
PPS:
The Spirit Guides and Angels on the astral planes are constantly hiring and recruiting astral travellers to help them with recently deceased people who need to be guided from the lower to the higher astral planes.
PPPS:
Don't be so hard on yourself and don't take life too serious…